VH-KBR (1) Auster J/2 Arrow (c/n 2372)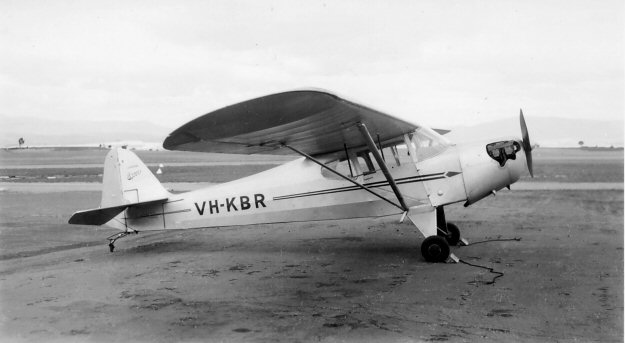 Despite the absence of tail stripes this was, in fact, a Tasmanian Aero Club machine. This
photograph was taken in April 1953 at Western Junction Airport, Launceston. I am indebted
to Ian O'Neill for its history: Built in 1946, it was destined to go to South Africa as ZS-BNN,
but for some reason the deal (probably financing) fell through. In the event it went on to the
UK register as G-AJRR. It was then reputedly sold abroad in May of 1950 although in
actual fact did not leave the factory at Rearsby until almost two years later. It was not brought
onto the Australian register by KSAS until March of 1952. This, again, could have been a
delay in getting a letter of credit for it from Kingsford Smith Aviation.. In the event, when I
first flew this delightful, docile little aircraft in 1953 it was practically brand new. It is unfortunate,
therefore, that it was allowed to stall 100 ft above the boundary fence on approach to Western
Junction Airport on 25 Sept 1954 with the result that it spun in. The damage was so severe
that it had to be written off. .