VH-KBC Auster J/1B Aiglet (c/n 2681)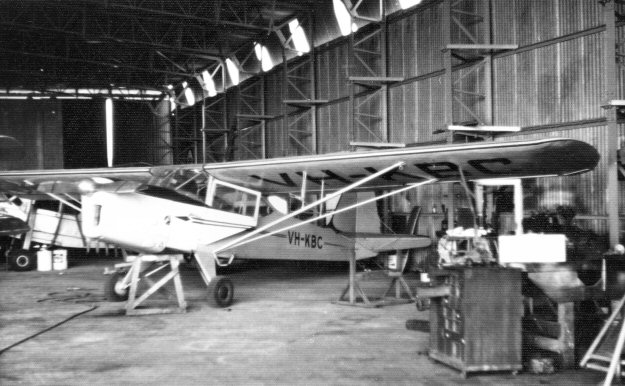 VH-KBC at Parkes, NSW in March 1967. Geoff Goodall reports that this old style crowded
hangar was a virtual Aladdin's cave back in the 1960s. It always housed an array of rag and tube
aircraft in for maintenance by the irascible Jack Hodder. Behind the Auster can be seen Desoutter
VH-UPR. Jack had flown his fixed undercarriage B.A. Eagle G-AFAX from Rangoon to Aust-
ralia in November 1939 where it became VH-ACN. Hodder had a distinct dislike for curious
aircraft note-takers and photographers whom he would evict with gusto, and this furtive shot was
bravely taken by Ian Thompson. Incredibly, this aircraft is still registered to its first owner, Gordon
Maguire of "Coo-ee", Forbes, NSW. Evidently Mr. Maquire watched it have its first test flight
by Kingsford Smith's Peter Brown on 2 August 1951 and has owned it ever since. Surely a record
for an Auster? A contemporary photo would be nice...........