VH-KAZ Auster J/1B Aiglet (c/n 2672)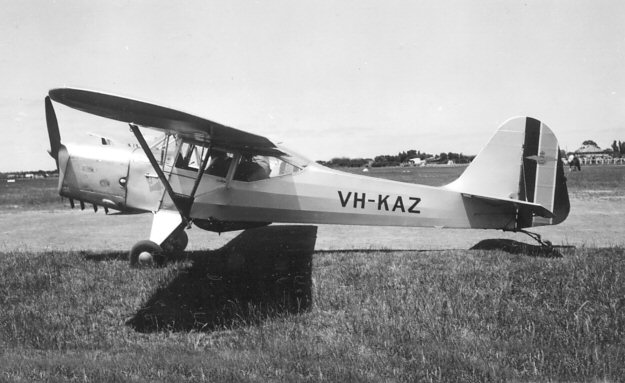 This Auster is wearing the tail stripes of the Royal Victorian Aero Club. It is seen above at
Moorabbin at an Air Show in 1955. RVAC owned the machine from its delivery from the
dealer (Kingsford Smith Aviation Services) in Sydney in 1951 until 1959. Barrie Colledge's
color shot below was probably taken a little later (late 1950s?) showing a repositioned rego
and 'last digit' on the cowling. -KAZ is still on the current register and Phil Vabre took the
photo of it at the foot of the page at an air show at Temora in 2014, showing that it has now
been faithfully restored to original Auster livery. Interesting to note that this shot of Phil's was
taken almost 60 years after my original photo above! Anyway, the latest paint job is a vast
improvement over that carried in 2005 as seen below (photo no 3) in Phil's earlier shot of at
Swan Hill in April 2005. . .