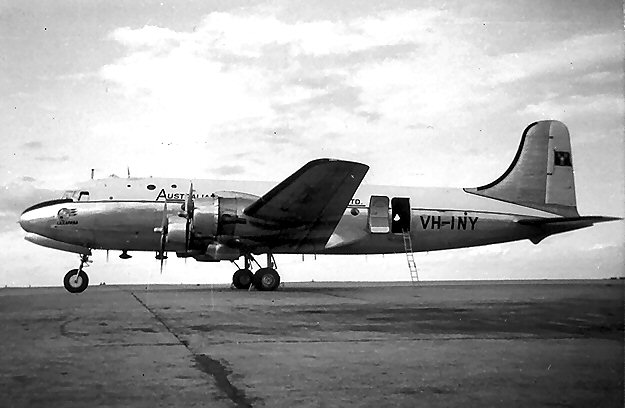 VH-INY 'Laxapana' c/n 10365
Essendon early 1950s.
This was the first VH-INY. The photo of it in its original ANA livery (above) is from the Barrie
Colledge collection. The lower images show it in "National" styling and also in its original markings
whilst with Air Ceylon. This aircraft was an ex US Navy R5D-1 which was civilianized in 1946
to Veterans Air Express as N58003, passing to Matson Navigation Company as N57777.
It was sold to Air Ceylon as VP-CBD in 1949, and re-registered CY-ACA in 1950. ANA
purchased it 1951, although it continued to operate in Air Ceylon markings as my shot below
shows, possibly under lease. It was repatriated back to Australia in time for it to be used as the
ANA aircraft allotted for Queen Elizabeth during the 1953 Royal Tour. It carried the markings
seen on the above shot (with the Royal cypher on the nose) at that time. In 1958 it was sold to
Twentieth Century Airlines, a US non-sked carrier, who quickly sold it off to Transavia in
Germany as D-ADAL. The aircraft finally wound up in the hands of Aviation Traders at
Southend, England in 1960 who converted it to an ATL-98 Carvair.