VH-INX Douglas DC-4 (c/n 18327)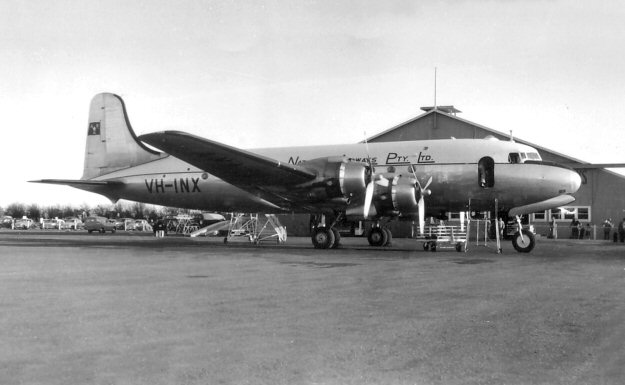 My early shot above of this ex C-54B-5-DO (43-17128) was taken at Western Junction,
Launceston, Tasmania in 1952. The aircraft was named

'Katana'.

It had been acquired
by ANA in 1951. Post war it first went to Pacific Overseas Airlines as N74628, then to
South Africa as ZS-BYO, then to the UK Silver City mining operation as G-ALEP. It
passed to Ansett-ANA with the merger and was converted to a freighter. Greg Banfield's
shot immediately below was taken at Mascot in February 1963, whilst by the time Geoff
Goodall took the photo of it at the foot of the page at Adelaide in July 1969 it had received
weather radar and a repositioning of the rego on the tail (enlarged treatment of said tail below
the main photo). VH-INX was retired in 1970, and broken up at Melton. The remains were
around as late as the mid-1980s.