VH-INW Bell 47J-2A (c/n 2845)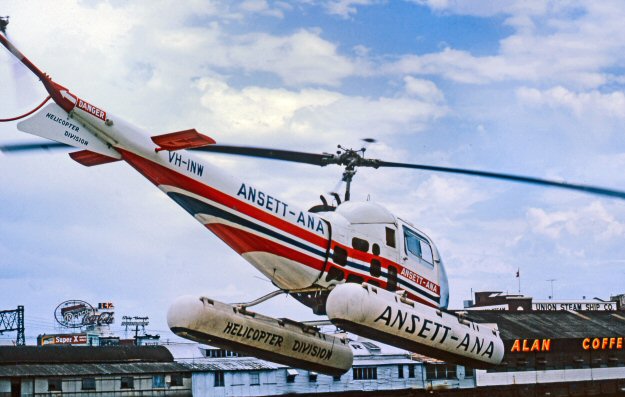 Here's an interesting shot from the Greg Banfield collection of -INW at the Melbourne Heliport
on 8 February 1965. The Bell had first been registered in May 1964 to Ansett-ANA Helicopter
Division. Greg also took a B&W one of it (below) at the same time. On 4 May 1966 it crashed
(at an unknown location) after its tail rotor hit a clump of grass, causing the drive-shaft to the rotor
to fail. The remains were acquired by Helicopter Utilities, rebuilt, and in March 1968 and registered
to their subsidiary Airfast Services Pty. Ltd. The indefatigable Greg took another photo of it
(bottom of the page) at Mascot in May 1969 . It was converted to 47J-2A standard in 1972.
Restored again, it passed to Helimuster Pty. Ltd of Victoria River Downs, WA inn 1978.
Following some other accidents it was finally written off in another crash in August 1982 some
46 km NW of Victoria River Downs.