VH-INU Douglas DC-6B (c/n 44694)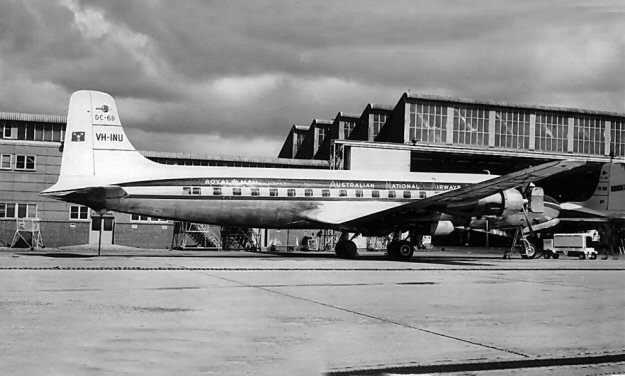 Despite its registration, VH-INU was actually delivered before the previous two DC-6Bs.
After passing to Ansett-ANA it was leased to Trans Australia Airlines in the period from
Feb 1960 to Aug 1966. Greg Banfield took a shot of it whilst it was with TAA (below)
at Mascot in December 1962. It was another of the machines sold to Far East Air
Transport in Taipei in 1967, becoming B-2005. It was then leased by Air Vietnam and
damaged beyond repair after an explosive device was detonated in the cabin just as the
aircraft was about to land at Nha Trang in South Vietnam on 22 Dec 1969. The aircraft
became airborne again, overran the runway and crashed into a school. 10 of the 77 pass-
engers were killed. It was not reported whether the school had children in it at the time.
My shot of it (above) shows it in pristine condition on the Essendon ramp in calmer (if some-
what stormy) times.