VH-INT Douglas DC-6B 'Olympiana' (c/n 45077)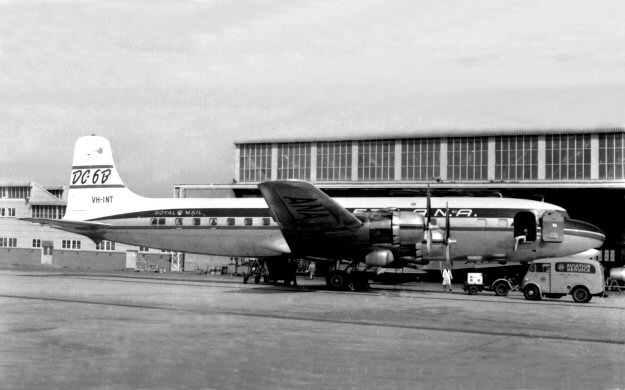 Delivered new at the end of 1956. When this shot was taken it had been taken over by Ansett
and is showing the Ansett-ANA livery extant at that time, with the large 'DC-6B' on the fin and
rudder. The National Airlines (of Jacksonville, Florida) livery was soon changed over to the
Braniff Airlines (of Dallas, Texas) markings in the late 1950s* and -INT is seen below thus
adorned in two photographs by Greg Banfield. The upper shows it at Mascot in June 1962
(with original nose) and the lower, also at Mascot two years later with its new weather radar
nose. It was operated for another ten years and then sold to Trans-Union in France as F-BOEV.
It then had a series of European owners winding up in 1980 with Lukum Air Services in (what
was then) Zaire. It was withdrawn from use (as 9Q-CCM) in Kinshasa in 1983. Why did so
many of these old Douglas airliners wind up in that neck of the woods? I guess I should say
'forest'. When Belgium left the Congo, ICAO, with an obvious mind to saving paint, very
graciously allowed Zaire, or the Congo, or whatever it was calling itself at the time, to use 9Q-
as their international letters. Thus it was an easy transition from 'OO-' The first 'O' got a
truncation, and the second one got a crossing dash. Very little change involved. However,
as I indicate elsewhere in this website, they (ICAO) could just have easily granted the letters
'ZA' or 'CO' or some such, without resorting to a number and a letter combination (another
pet peeve of mine)..