VH-INS Douglas DC-6B 'Beltana' (c/n 45076)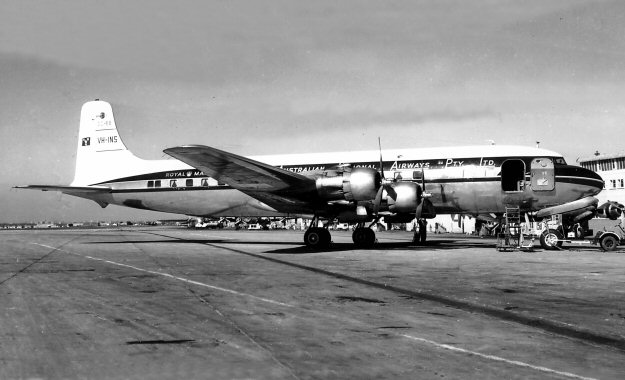 Essendon 1957

This aircraft was delivered new from Douglas in 1956. It passed to Ansett-ANA's books in
1958 and was operated for another ten years before being sold to Far East Air Transport (FAT)
in Taipei as B-2007. It was later re-registered B-12201 to Yung Shin Airlines in 1972 . It was
withdrawn from use at the old Chung Shan Airport (in the center of Taipei) in 1975. I observed
it there as late as November of that year, but, unlike the ramp at Essendon some twenty years
earlier, security prevented me from getting close to it. The three images below are all from
Greg Banfield and show (upper) VH-INS in Ansett-ANA titling at Mascot in 1962, (second
down) after the aircraft had received its nose Weather Radar, also at Mascot in August 1966
and finally, at the foot of the page, an interesting shot showing -INS turning onto the active
threshold closely followed by TAA's counterpart in the days when the (virtually Government
mandated) "parallel scheduling" made very little difference as to what airline one flew!