VH-INQ Bristol 171 Sycamore 3A c/n 13068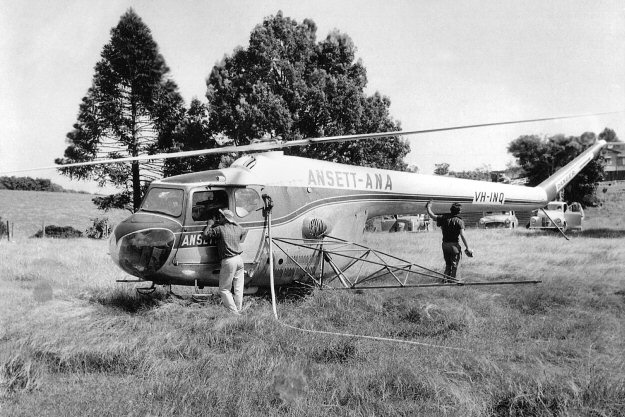 The above image, via Fred Niven, is from a photograph (looks like an official Ansett-ANA one)
unearthed by Mr. Heath Sandow. It was taken whilst the Bristol was being used (or tested) as
a crop sprayer, although the venue and date are unknown. Built as G-AMWG, this Sycamore
was leased by BEA in 1952 and named

'Sir Gawain'.

It joined Ansett-ANA in 1958. The
shot below, by Lindsay Wise (via the Maurice Austin collection) was taken at Alice Springs,
circa 1960. At the foot of the page is a rare shot by Barry Maclean at Essendon soon after its
delivery and whilst it was operating as a flying billboard. VH-INQ was written of in a crash
at Glengyle, near Birdsville, Queensland in September 1961.