VH-INJ (2) Aviation Traders ATL-98 Carvair (c/n 19/42927)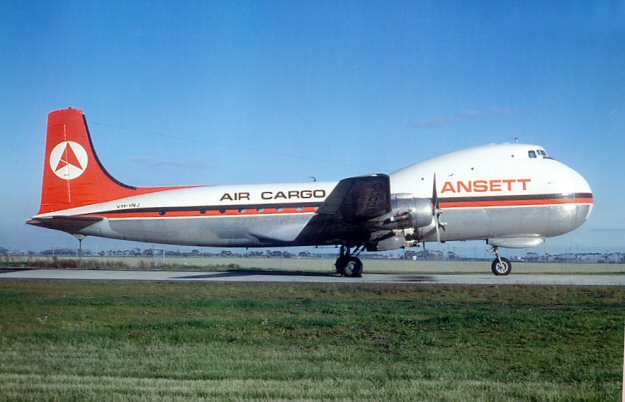 Designed by Aviation Traders Ltd as a replacement for the aging Bristol Freighters, the
ATL-98 Carvair (a contraction of Car-Via-Air) was designed and built around the Douglas
DC-4 airframe. This was considerably less expensive than designing a new aircraft from scratch.
Technical assistance was received from Douglas Aircraft and the conversion consisted mainly
of a completely new front end. The front hold had a sideways-hinged nose door through which
vehicles could be loaded. 21 conversions from DC-4s were built in all. The original DC-4
on which this Carvair was based was a Swedish Airlines machine (SE-BBD) although Ansett-
ANA bought it from Japan Air Lines where it had been serving as JA-6008 for a decade. It
was purchased by Ansett in August of 1963 becoming VH-INJ (2) and then served for a couple
of years as a freighter with Airlines of N.S.W. before going off to Southend, UK to be converted.
Ansett sold the Carvair in 1973 and it wound up derelict at Phomn-Penh, Cambodia in 1975
registered in the US as N33AC. The photograph immediately below, taken at Brisbane, shows
it as operated by Ansett-ANA, whilst the top shot at Tullamarine, Melbourne, illustrates its final
(Australian) livery. These excellent images are both by Peter Gates. Photo No 3 is by Richard
Hourigan and shows it in the shop at Essendon in August 1963 being reworked and transformed
from JA-6008 into VH-INJ. It re-emerged sometime later in full Airlines of NSW livery as seen
in Greg Banfield's shot at the foot of the page taken at Mascot in December 1963.