VH-INH Douglas DC-6B 'Bungana' (c/n 44693)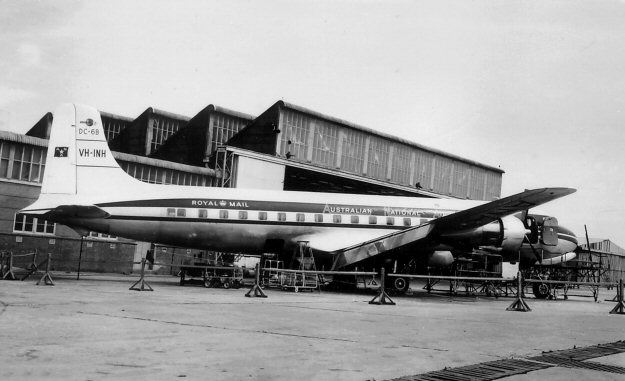 Here's VH-INH undergoing some fairly major maintenance in 1958 outside the hangar.
This aircraft was delivered new to the airline early in 1955. It was leased to the state
run Trans Australia Airlines from Feb of 1960 to Aug of 1966

*

, and sold some six
months after the lease had ended becoming OY-STP with Sterling Airways in Denmark.
44693 was withdrawn from use in 1970 and burned out in a fire practice drill at Kastrup
Airport in 1970. The beautiful shot below is from the Civil Aviation Historical Society's
Dr. K.N.E. Bradfield collection. It would appear to be a Douglas Aircraft photograph
taken above Long Beach whilst the aircraft was on delivery test.


*

Greg Banfield's shot, at the foot of the page shows it whilst with TAA at Macot in April 1965.