VH-INF (2) Bell 47J Ranger (c/n 1801)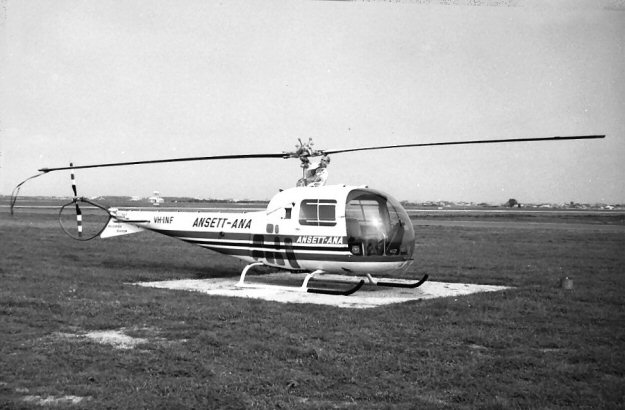 The first VH-INF was a DC-3 which was re-registered VH-AKR in 1950 (I have never seen
a photograph of it as -INF). The Bell 47J above is the second to carry the identity, and was
registered in June 1960. It flew with Ansett-ANA until 1968 and was then sold to Airfast
Services Pty Ltd, a division of Helicopter Utilities in March of 1968. Geoff Goodall's photos
(above) show the chopper on skids at Adelaide Airport in October of 1963 and, in photo
# 3 hovering above the Yarra River Heliport in Melbourne in May 1964 with pontoon gear.
Immediately below is a nice color shot of this Ranger by Art Withers. Photo # 4 was by Greg
Banfield at Mascot just after having been acquired by Airfast. They did not hold it long and
in November of that year it went to Rotor Works Pty Ltd. Sometime later it was converted
to a Bell 47J-2A. It was badly damaged at McDonald Downs Station, NT in July 1979.
Greg Banfield's second shot at the foot of the page depicts it in decline at Bankstown in May
1985 where it evidently was left to rest its days, being officially withdrawn from use in November
1986. However, by August 1999 it had been restored and re-registered VH-JEY. As such
it is still current being registered to a company in Caboolture, Queensland.