VH-INA (2) Douglas DC-6B (c/n 44893)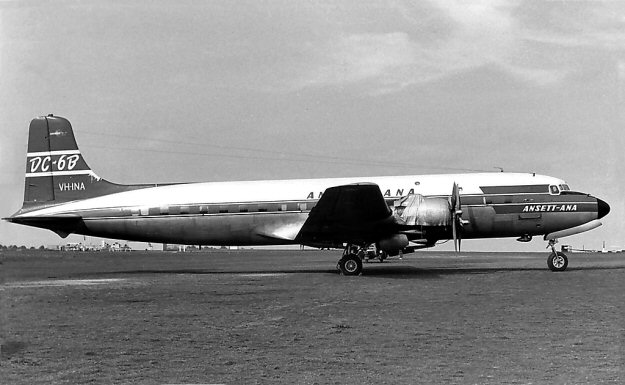 Photograph above by Peter Gates. Essendon, circa 1967. This aircraft was originally
built for United Airlines as N37569 '

Mainliner Diamond Head

'. It was purchased
by non scheduled carrier US Overseas Airlines in 1960. It was a late-comer to the
(by then) Ansett-ANA DC-6B fleet, since it was not acquired until 1963. It was sold
off in 1967 to Far East Air Transport (FAT) as B-2003 in Taiwan. In 1973 it returned
to the USA as N62876 and was converted to freighter configuration becoming a DC-6BF
. It ended its days in Canada with Conair Aviation as C-GHCB.
On Tuesday, 14 April 1964 this aircraft, whilst on a flight from Melbourne to Adelaide, "lost"
an engine (literally) just after taking off from Melbourne's Essendon Airport. The propellor
on the No.3 engine split and tore the engine from its mountings. The engine then dangled from
the wing in such a position that landing with it attached was out of the question. With some
superb airmanship by the crew, led by pilot Captain Keith Hants, the errant engine was shaken
off over Port Phillip Bay and the aircraft made a safe landing back at Essendon some two hours
after taking off. Alan Fraser happened to be on hand at the time and the photograph below
shows the aircraft just after landing on that fateful day. (This photograph comes to me courtesy
of the Maurice Austin collection). The story of the missing engine from VH INA is well
documented, particularly in Nan Witcomb's 'Up Here Down There' book published in 1986.
The color shot at the foot of the page is from the Peter Hough collection.