VH-IDU DHC-2 Beaver 1 (c/n 1560)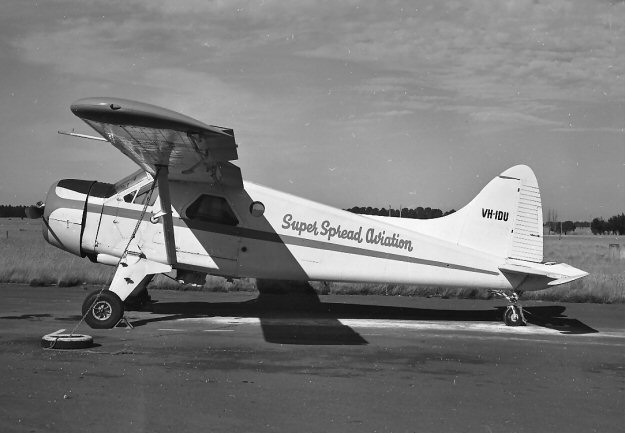 VH-IDU was another Beaver which went new to Super Spread (and later registered to
Leafair). It was first delivered to de Havillands at Bankstown early in 1964 and Greg
Banfield's shot (immediately below) shows it brand new at Bankstown in September of
that year prior to its going to Super Spread. Geoff Goodall's shot (above) shows it in
somewhat revised original livery at Ballarat, Victoria in May 1967. (It was around that
time that Beavers up for major overhauls had script titling replacing their original block
letters). VH-IDU was badly damaged in 1972 and then sat for thirty years before being
reborn by Kalair in Vernon, BC for a US customer as N159M. Lenn Bayliss' image
at the foot of the page shows it in the 1970s blue livery. This must have been shortly
before it pranged, following which it became a hangar queen for years. In 2007 c/n 1560
returned to Canada as C-GOBC and, as of 2011, was still active.