VH-GVB Avro 652A Anson XII (c/n unknown)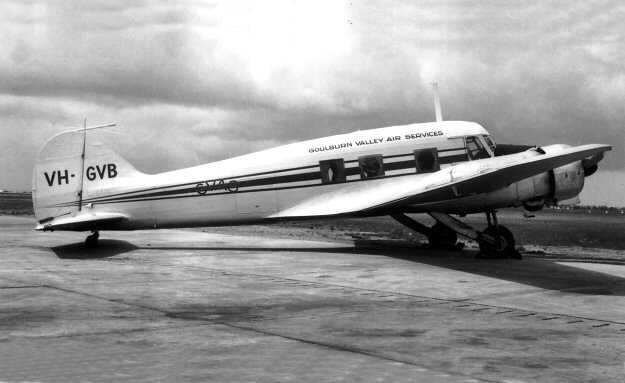 The following history of VH-GVB come from Fred Niven:



Ex R.A.F. Anson X

II

NL153 (all-metal wings & empennage), initially as an aerial ambulance & later as a V.I.P. aircraft.
To RAAF 1/45, as a V.I.P. aircraft (the prototype conversion).

Included in the V.I.P.s it carried was the Governor
General of Australia, the Duke of Gloucester, who used it as his personal aircraft.

Its starboard undercarriage
collapsed at Canberra 3/45.

To N

°

4 Sqn., Central Flying School.

Sold to M.W. Hopp (t/a Petroleum Development
Corp.) & was registered VH-PDC to Petroleum Development Corp., Brisbane, 20/8/54

.

Purchased by Sir Reginald
Barnewell 11/54, from a Brisbane aircraft broker, with a large number of spares; for use by Goulburn Valley Air Services.
Registered VH-GVB to Sir Reginald J. Barnewall (t/a Goulburn Valley Air Services) 19/11/54 & named 'Yanga'.

Before it
entered service an 8th seat, which folded & was situated near the entrance-door, was added.

Registered to Southern
Airlines Ltd., 21/12/54.

It ground-looped during an emergency landing at Corowa 10/3/55, after the pilot (Victor T. Wood)
smelt rubber burning.

He was carrying 5 passengers &, apparently. The tail section pulled away when being pulled from
the mud during recovery rendering the aircraft beyond economic rebuild.
When I examined it at Essendon in 1955 I found that it was a much plusher Anson than -GVA,
having heavier blue padded seats, window curtains, etc. Definitely up to Avro XIX standard.
The shot below shows it in Southern Airlines livery.