VH-GVA(2) de Havilland D.H.82A Tiger Moth (c/n DHA1014)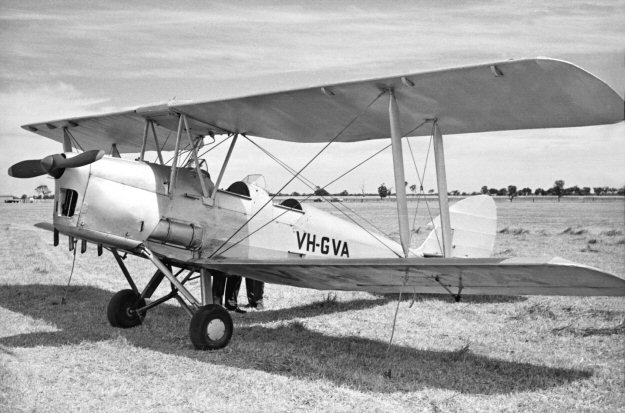 When Goulburn Valley Air Services folded in the late 1950s, the Goulburn Valley Aero Club
snapped up their registration series. This aircraft had previously been part of the McKenzie
Flying School fleet at Moorabbin as VH-GME and was purchased by GVAC when McKenzie
went out of business in the early 1960s. Its RAAF serial had been A17-579. The photo above,
by Bob Neate, was taken at Horsham in 1962. It was still club owned when Geoff Goodall took
the shot below at Swan Hill in 1965, although, as was the vogue in those days, the rego had been
moved to the fin. By May 1967 when Goodall took the third shot at its then home base of Shep-
parton, Victoria, and was sporting a positively ghastly red and black paint job. Looks like a red
rego on a black fin.....shades of the RACNSW in the 1950s. In the early 1990s this Tiger was
used at air shows for wing walking, as seen in the color shot (# 4) taken by George Canciani at
Ballarat in 1990. In 1996 it was flown solo England-Australia and set several FAI World Records
en route. At the foot of the page is a photo of it by Peter Hough at the Harry Houdini Commemor-
ative Air Show at Melton airfield, Victoria in March 2010 bearing the logos of the companies which
sponsored it for this it for this record breaking flight. On 27th January 2011, -GVA(2) was unfort-
unately destroyed when it clipped trees on takeoff from Maryborough Airport, Victoria. It crashed
and caught fire, starting a small grass fire. Tragically, the pilot and his passenger both perished in the
accident.