VH-GSF Noorduyn UC-64A Norseman (c/n 270)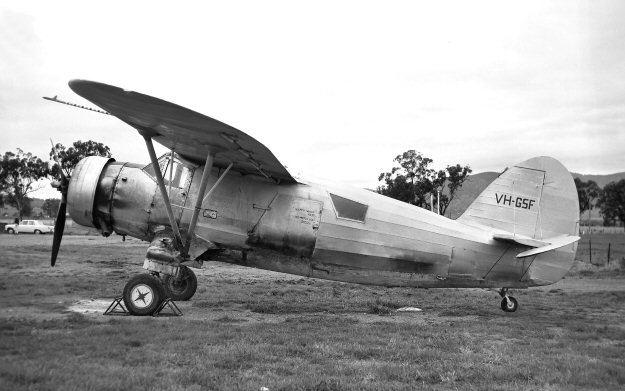 This USAAF Norseman (ex 43-5279) was delivered to the RAAF late in 1943 becoming A71-10
It was civilianized in November 1949 for Gibbes Sepik Airways in Papua/New Guinea as VH-BNL
It was badly damaged in a crash at Goroka, PNG in July 1960. When restored in November 1957
its c/n was quoted to DCA as 274, probably in error. It was re-registered into the Gibbes Sepik
series as VH-GSF on 30 March 1960. Geoff Goodall saw (above) it at Scone, NSW in July 1967
after it had been converted to an agricultural spreader for Pay and Williamson. The load limits painted
on the fuselage state "Max Hopper Load 2180 pounds", close to a ton of fertiliser each take off - no
wonder Col Pay had such praise for his three hard working Norseman! The lower shot, also by Geoff
portrays the old lady in September 1968 looking a little sad after it was retired by Pay & Williamson.
A few months later it was sold to Skyservice Aviation at Camden, who first used it for water bomber
trials with bushfire authorities, then for parachuting. While dropping 8 parachutists off Sydney's Manly
Beach on 18 January 1970, an engine fire caused the pilot Ken Andrews, part owner of Skyservice
Aviation who was wearing his own chute, to jump from the aircraft at 5000 feet, leaving it to crash into
the sea.