VH-GOE Piaggio P.166 (c/n 373)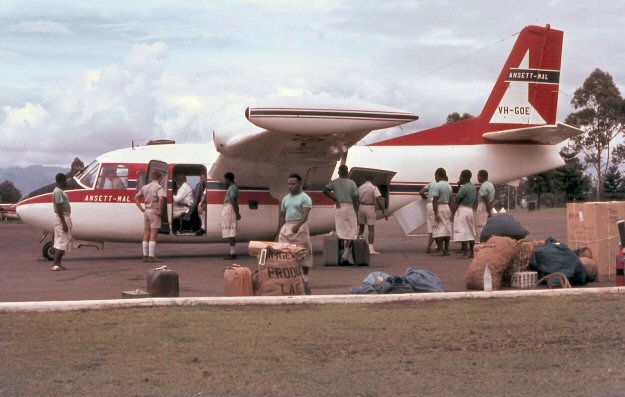 This Piaggio was first registered in Germany in December 1960 as D-INLE. Sold to Mandated
Airlines Ltd in May 1964, it became VH-GOE, passing to Ansett-MAL when Mandated was taken
over. The rare shot above from the Andy Saunders collection shows it at Goroka in 1968 preparing
to depart for Lae. During 1969, like all Ansett-M.A.L.'s P.166s, it had major engine problems, with
metal granules in the sump (reportedly later found to be caused by the use of the wrong type of oil).
Unlike its sister aircraft VH-GOC, it never passed to Ansett Airlines of PNG but was sold instead in
March 1970 to Hawker de Havillands, as a trade-in on DHC-6s VH-PGS/PGT. It was then regis-
tered to G.R. Board, Church Point, Sydney, on 23 March 1970, and operated by Air Research. It
passed to Mineralair in April 1971. Greg Banfield's shot below was taken at Mascot in March 1972.
.By 1974 it was registered to South Pacific Airways Pty Ltd of Church Point, Sydney. VH-POE was
withdrawn from service in May 1976 and struck off the register. It was stored at Bankstown as late
as 1983 although was in poor condition. It was later acquired by the National Museum and Art Gallery
in Boroka, PNG, for 7,000 Kina.