VH-GOA Piaggio P.166 (c/n 378)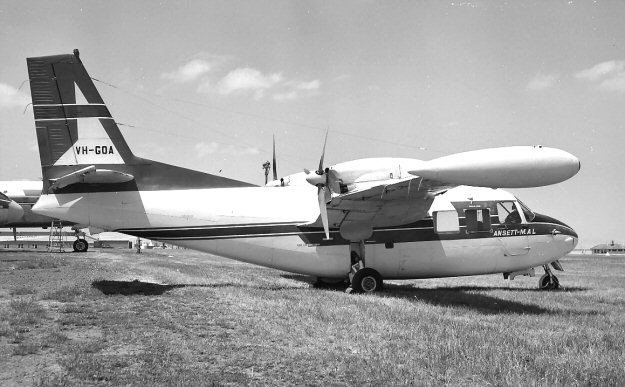 VH-GOA, as seen by Geoff Goodall at Essendon in November 1967, far from its home operating
base in Papua/New Guinea. It had been acquired by Ansett-MAL in 1961 for £50,000, and then
registered to Mandated Airlines Ltd. in April of that year, fitted out with seating for 9-13 passengers.
In at least at one stage of its life it had side-saddle seating for 12-13 passengers, like a military para
dropping machine. Like all Ansett-MAL's P.166s, it had major engine problems, with metal granules
appearing in the sump (reportedly later found to be caused by the use of the wrong type of oil) and
possibly it had come south for overhaul when Geoff took the above picture. It was sold in December
1969 to Hawker de Havillands, as a trade-in on DHC-6s In 1971 it was on sold to R. Causer
ostensibly to be fitted with a large freight door, although, in the event, never flew again,
being struck off the register in January 1974.