VH-FTA DHC-1 Chipmunk T.10 (c/n C1/0499)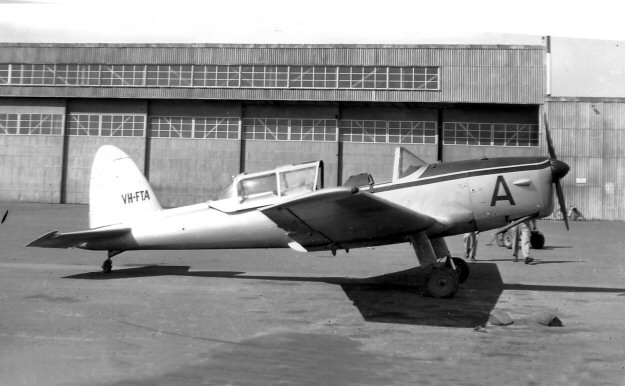 This Chipmunk was one of a batch built for the RATG (Rhodesian Air Training Group), was
delivered, but, along with several others, never used. Its RAF serial was WG425. VH-FTA
was, therefore, brand new when acquired the Royal Aero Club of NSW in 1955. This aircraft
was mercifully spared the standard navy blue fuselage with black rego (probably because it was
owned by a second party and operated by the club). All three images on this page were taken
at Bankstown: mine (above), in October 1955, Greg Banfield's (center) in March 1964 (wearing
Illawarra type tail stripes, although still apparently with the RACNSW). and Greg's lovely color
shot (bottom of page) taken in January 1967. The livery had by then been replaced with the
checkered Ace of Spades tail and yellow fuselage band. VH-FTA crashed on 27 January
1968 at Cobbitty, near Camden, killing RACNSW Instructor Arthur Kell, DFC and Bar, and
his student, who had gone out to do a session of spins.

The subsequent investigation revealed
that a 20-cent coin had jammed the controls, preventing the stick from moving.

It was ironic
that Arthur Kell had survived all the Germans had thrown at him during WW II war but was
killed by a coin someone had lost in the cockpit. Moral: Never do aerobatics with anything
in your pockets.