VH-FSF Cessna 182C Skylane (c/n 18252523)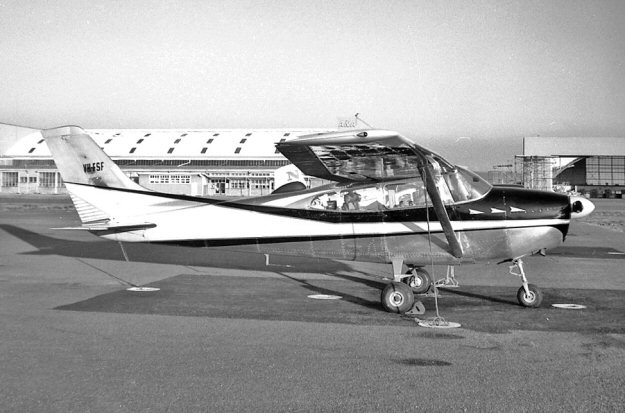 This Cessna 182C was first registered on 5 May 1960 (ex N8623T) to Air Travel of Deniliquin,
NSW. The photo above, however, from the Geoff Goodall collection, was taken at Adelaide
Airport, and in August 1964 when the aircraft was in the process of being sold to Sanders Con-
tracting Pty Ltd, to be based at Naracoote, SA. It was still wearing its original factory color
scheme and with the minuscule VH- rego so typical of this period. The photo below, by Bob
Neate, was taken at Warracknabeal, Victoria in February 1961 when the aircraft was taking
place in a rally. Note 'Air Trial' under the starboard wing. Interestingly, two months earlier this
Cessna had been stolen from Deniliquin Aerodrome by a 17 year old youth who took off for a 3
hour joyride. He managed to find his way back and a land safely but when parking he let the the
wing strike a fuel pump. VH-FSF was written off on 31 August 1974 when it overturned during a
forced landing on a beach on the Robinson River in the Northern Territory.
.