VH-FSC Piaggio P.166C (c/n 414)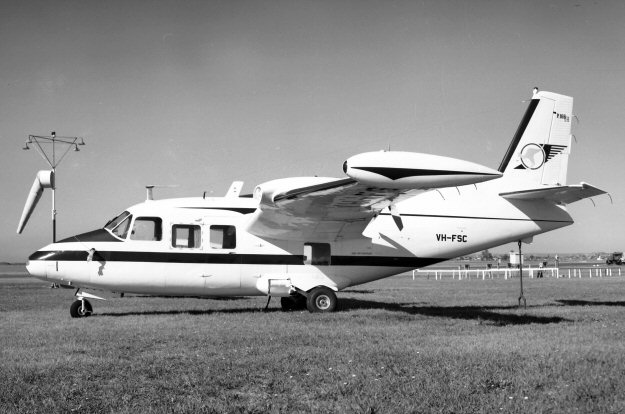 Following the moderate success achieved by the earlier P.166 and P.166B Portofina models with
third level airlines, commuter carriers and charter operators, Piaggio decided, in 1964 to offer a
higher density version known as the P.166C. It differed from earlier versions in in having new
bulged fairings for the main undercarriage members which allowed increased internal capacity to
provide for seating up to 12 passengers. The fairings can be seen on Greg Banfield's shot above
taken at Mascot in February 1966 and also in the photos below. Upper one is from the CAHS
collection and shows -FSC in service with Commuter Air Services at West Sale, Victoria and, at
the foot of the page, a later shot by John Wheatley at Mascot, in 1976. Unfortunately, by this
time conventionally aspirated engines were on the wane as far as commuter lines were concerned
and only three P.166Cs were ever built. VH-FSC was the second one A forthcoming order
by TAA for local services was awarded to Beech for their A80 Queenair. After passing through
several hands VH-FSC was withdrawn from service in 1976 and languished at the Bankstown
graveyard for many years. A 1990s attempt to restore it seems to have come to naught and its
exact disposition is not known.