VH-FNU Fokker F-27 Friendship 400 (c/n 10334)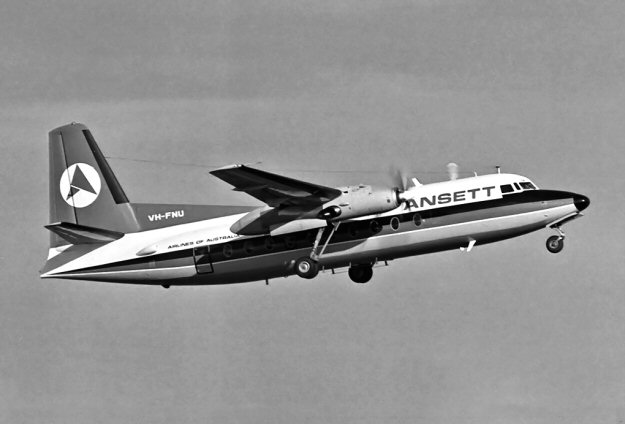 Nice George Canciani shot of a stretched (dash 400) Friendship departing Melbourne/
Essendon in 1970. The aircraft had just been purchased by Ansett Transport Industries
Pty Ltd and put to work with the "parent" line, Ansett Airlines of Australia. It was not a
new machine, having been delivered in 1967 and leased to Air France as F-BOOD.
Returning off lease it became PH-EXC and was then sold to ATI as VH-FNU in August
of 1970. It was the subject of various leases during its life in Australia, both within ATI
subsidiaries and without. Notable among the latter was a spell with Air Nauru (pending the
delivery of their own F-28) and also with Air Queensland. Barry Maclean took the shot
of it in their colors (below) at Essendon in 1984. In 1986 it went to Air UK as G-BNAL
and was overhauled at Norwich, being rolled out for service on 31 January 1987. In 1995
it was leased to TAVAJ in Brazil, assuming the identity PT-TVA. In 2003, as it was dead-
heading for a major overhaul it veered off the runway at Tarauacu, Brazil and was reduced
to produce there.