VH-FNT Fokker F.27 Friendship 400QT (c/n 10322)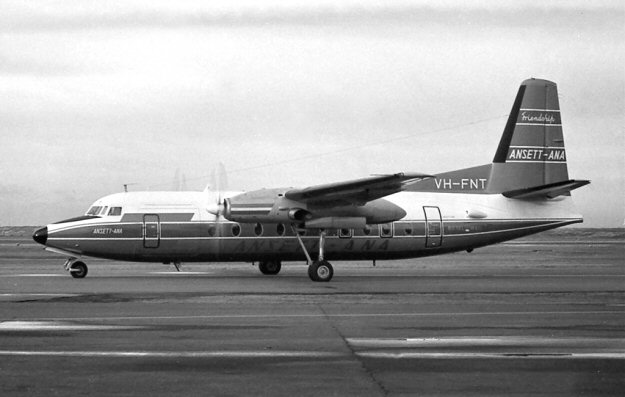 <> Registered PH-FKS, VH-FNT was first flown on March 3, 1967. It was registered in Australia on
9 March and parked at Essendon on March 18 at the end of its delivery flight . It entered service
with Ansett-ANA soon after and was snapped by a 16-year-old David Carter (above) at Mascot
that same year. Ansett-ANA became Ansett Airlines of Australia in 1968 and –FNT adopted the
new delta livery that came with the change. The aircraft flew with other airlines in the Ansett group,
including MMA, Air NSW and Ansett Air Freight. Air Nauru leased it in 1972 pending delivery
of its Fokker F28s. –FNT flew its last service for Ansett in June 1986 and was placed in open
storage at Tullamarine. It therefore did not receive the contemporary Southern Cross livery.
><> In March 1987, –FNT was sold to Air UK and ferried to Norwich, where it was placed in storage
again . Its Australian registration was cancelled in February 1988. A planned sale to Pakistan
International fell through and the aircraft was leased to Aviaco, of Spain, as EC-EHG in March
1988. It returned to Norwich for storage in October the same year . Ownership reverted to
Ansett in November 1989 and it was restored to the Australian register in July 1990 However, it
. did not return to Australia nor fly any services for Ansett, and was cancelled from the Australian reg-
ister yet again in December 1991 Surely all these shenanigans were no more than journal entries
on Ansett's balance sheet. It was then leased to Canadian operator Brooker-Wheaton Aviation as
C-FAFE. This operator, a Fedex Canada subcontractor, became Morningstar Air Express in
August 1992>. The lease ended in November 1993 and the former –FNT was returned to Ansett,
which placed it in storage at Marana, Arizona. The Peruvian Coast Guard purchased it in October
1995 and gave it the serial number AB584 . It was reported in April 2016 as stored, without
propellers, at Lima.