VH-FNO Fokker F.27 Friendship 400 (c/n 10304)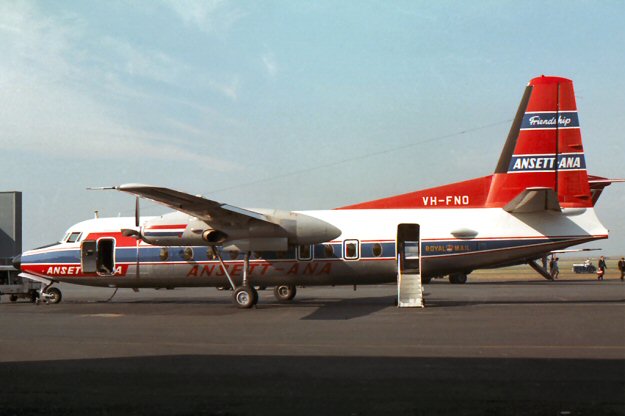 Test flown as PH-FIY, VH-FNO was delivered to Melbourne in Airlines of South Australia colours
in August 1966. In the event it was destined never to fly with that airline and was immediately repaint-
ed with Ansett-ANA livery. David Carter shot it in those markings at Mascot in 1969. –FNO flew
with Ansett-ANA and then Ansett Airlines of Australia until March 1975 when it joined MMA in the
in the west, by which time it was wearing the Ansett "delta" livery. It returned to the east in Septem- ber 1976 and re-entered service with Ansett Airlines of Australia. It was back with MMA from May
1978 to December 1980. From April to August 1981, it flew with Ansett Airlines of Northern
Territory and was still wearing its titles when David saw it again I(below) at Mascot in 1982. The
Fokker continued on with Ansett until it was withdrawn from use in July 1989, by which time it had
adopted the Ansett "Southern Cross" livery.
-FNO then sat idle at Tullamarine for 2½ years before it was ferried to Norwich, in Britain in Feb-
ruary 1992 where it was placed in storage again after its sale to Expresso Aero fell through. It
flew to Exeter in March 1993 for overhaul and repainting for Ratioflug but again the sale fell through
and it returned to Norwich. Finally in December that year there was a buyer, Sheik Kamal Adham,
who completed the transaction. –FNO became HZ-KA8 on the Saudi register It was used as an
executive aircraft until 1998 when it was flown to Exeter and yet again placed in storage. In Novem-
ber 1999 the Fokker was entered on the Equatorial Guinea register as 3C-AWW. It was scrapped
at Southend in September 2000.