VH-FNL Fokker F.27 Friendship 200 (c/n 10291)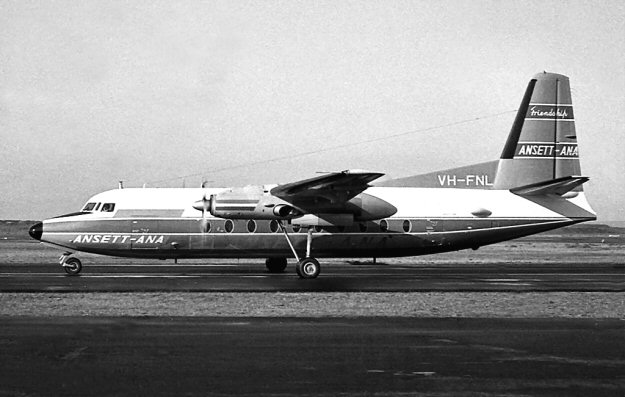 flown as PH-FII on December 10, 1965, VH-FNL was handed over to Ansett-ANA a week later.
It went into service with the airline on 4 January, 1966 but soon after was leased to Ansett subsidiary
MMA for a five months. Later in the year it went to another Ansett subsidiary, Queensland Air Lines,
and on December 4 operated its final service before the airline was absorbed into Ansett-ANA.
David Carter's 1968 photograph shows it at Mascot in the livery it had worn since delivery in 1965.
Ansett-ANA became Ansett Airlines of Australia in November 1968 and in due course -FNL was
repainted in its delta livery. In January 1977 the Fokker was sold to Air Niugini as P2-ANI. It
remained with that airline until February 1982 when it was sold to Rio-Sul of Brazil as PT-LCZ.
On 6 August , 1984, during a check flight, the crew attempted a flapless landing at Rio de Janeiro's
Santos Dumont airport and skidded off the end of the runway into Guanabara Bay. The former –FNL
was written off and scrapped.