VH-FNJ Fokker F-27 Friendship 200 (c/n 10264)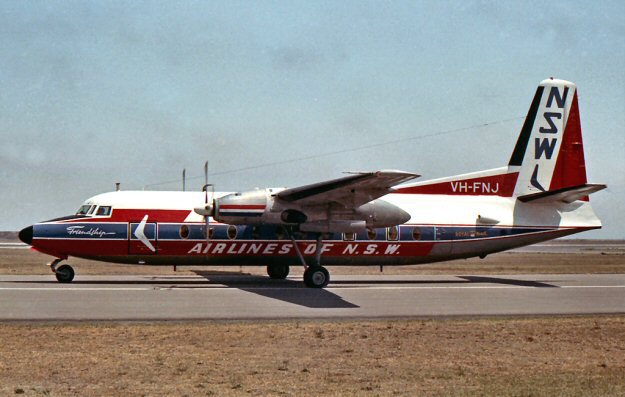 <> First flown with the test registration PH-FGF, VH-FNJ was registered to Ansett subsidiary Airlines
of New South Wales on 1 December, 1964 . It flew its first revenue service for the airline in Jan-
uary, 1965, . David Carter photographed it at Mascot in 1969 wearing a slightly modified livery
from that in which it had been delivered from Holland. . It was in 1969 that –FNJ was registered to
Ansett Transport Industries (Operations), the same year the Ansett group adopted a common colour
scheme, called the "delta" livery, across the whole group. > In 1971, –FNJ was transferred to Ansett
Airlines of Australia but within a few months it had been leased back to what had become Ansett Air-
lines of New South Wales. It was leased to Ansett Airlines of South Australia in 1976-77 but ended
its days with Ansett back with the Airlines of Australia division, flying its final revenue service – from
Mildura to Melbourne – on 1 November, 1980. Soon after the aircraft departed for Comair in South
Africa, where it became ZS-KVJ. It flew with that airline until October 1997, when it was withdrawn
from service. It has since been scrapped.