VH-FNH Fokker F-27 Friendship 200 (c/n 10180)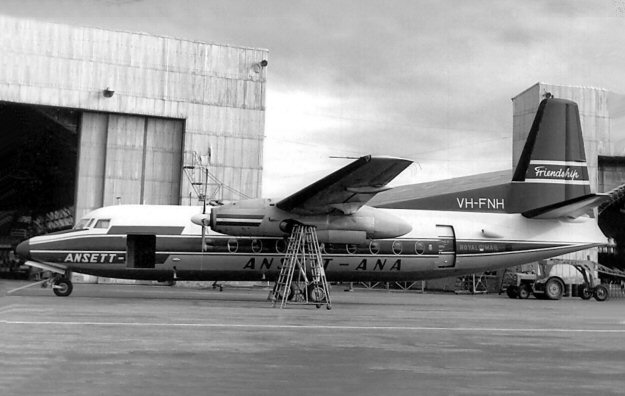 This aircraft was originally slated to become part of the Airlines of N.S.W. fleet but, in the event,
was diverted to the parent company and delivered to Ansett-ANA. It is seen here undergoing
maintenance at Essendon in 1963 in this shot by Barry Maclean. It crashed at Western Junction
Airport, Launceston on 17 March 1965. It appears as if a problem developed with the pitch-lock
mechanism, of the No.1 engine (the one they are working on above), and the prop was feathered.
A heavy cross wind was blowing at the time (of which I have personal knowledge at that airport)
and, in attempting to "go around" on one engine the port wing struck the runway and the machine
ran off it and came to rest some 230 meters abeam of the runway. The resultant fire which started
was quickly doused by the Launceston Airport fire tender and there was no loss of life. The aircraft
was written off and scrapped on site.