VH-FDV Beech 65 Queen Air (c/n LC-203)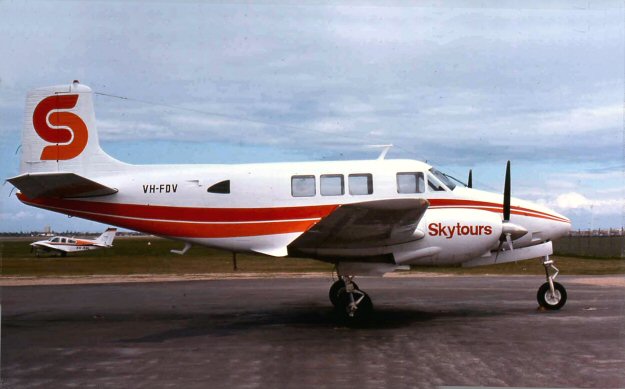 Formerly a Royal Flying Doctor Service machine, this aircraft came onto the Australia civil register
in April 1966. It never did look very sprightly, even when first imported, as seen in the photo below
by Greg Banfield at Mascot in March 1966, a month before it was officially registered in Australia.
Oddly, since it was a new machine, it was dressed overall in white with a red N9506Q rego. By the
time that John Wheatley photographed it (above) at Adelaide in September 1977 it had been sold by
the RFDS to air charter and tour outfit Skytours. This company conducted tours to destinations
which included Alice Springs, Andamooka, Ayres Rock and Oodnadatta. The fleet grew in the mid
80s to include three Queen Airs and an Aero Commander 680. . It was still in Skytours basic livery,
although minus the cowling titling, when Greg saw it again at Bankstown (photo # 3) on 20 November
1994. VH-FDV is still on the current register and privately owned in NSW. Phil Vabre saw it at an
air show at Bundaberg in 2009 as seen in the photo at the foot of the page. .