VH-FDC DHA-3 Drover 3 (c/n 5013)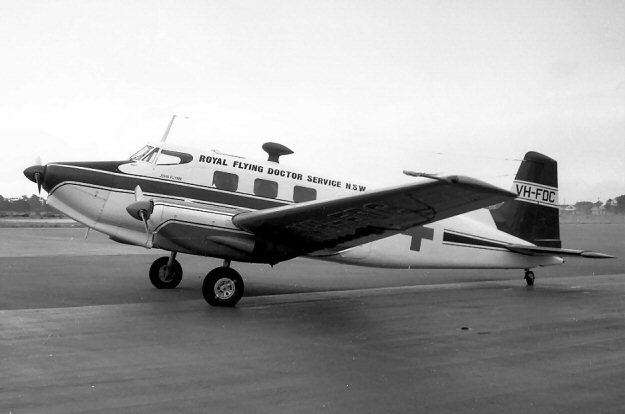 This Drover was delivered to the Royal Flying Doctor Service in 1952. Geoff Goodall's shot
(above) was taken at Adelaide Airport in October 1962 when it was working out of Broken Hill,
NSW. It was converted through the years to a Mk 1F, a Mk 2 and, in 1961, a Mk 3 respectively,
the last mod fitting it with three Lycoming O-360-A1A engines. Upon its retirement in 1969 it was
saved from an untimely end by its acquisition by the Central Australian Aviation Museum in Alice
Springs, NT and mounted on pedestals, as seen in the image (below) from the Barry Maclean
collection. At the foot of the page is an image from the John Oxley Library, State Library of
Queensland collection, showing a doctor alighting from a Royal Flying Doctor Service Drover
greeting some women and children at an outback station, (Well, he seems friendly enough - the
potential patients look a little nonplussed). Anyway, the narrative indicates that the aircraft was
named

"John Flynn"

which would make it, in fact, VH-FDC. The FDS had the "Royal" prefix
bestowed upon it in 1955. I am not sure if this photo predates that.