VH-FCB CAC CA-18 Mustang 22 (c/n CAC-192-1517)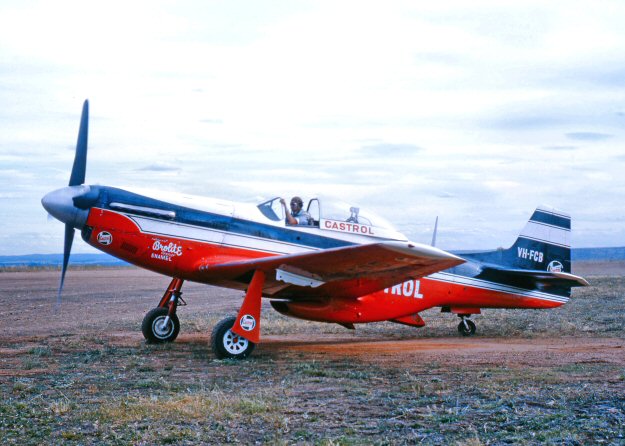 This Australian-built Mustang first appeared on the civil register in 1958. It had been delivered
to the RAAF in 1951 as A68-192 but, other than some four hours of acceptance/test flying, was
never used by that arm. When Mr. F.C. ("Chris") Braund (an East West Airlines pilot) bought
it in 1958 it was, then, to all intents and purposes, brand new. The color shot above from Greg
Banfield was taken at Coonabarrabran, NSW in November 1965. Richard Maclean's shot
immediately below shows it at the beginning of the 1964 R.M. Ansett Air Race from Brisbane
to Adelaide, when it was being flown by Jack McDonald. . Geoff Goodall's shot at the foot of
the page shows it at a very windswept Bankstown in May 1962. In 1969 it was sold in the
Philippines as PI-C651. After a landing accident in 1973 the aircraft was shipped to Hong
Kong and rebuilt by the Hong Kong Aircraft Engineering Company and registered in the colony
as VR-HIU. In actual fact, most of the bits and pieces used in the rebuild came from another
P-51D, 44-72917. The resultant aircraft went to the U.K. in 1985 and was registered G-HAEC
as

"Big Beautiful Doll"

of the 78th F.G., although in fact, was based in Germany. It was
reregistered D-FBBD in 2011 and crashed that same year at the Duxford Legends Air Show
.when it had a mid air collision with a Skyraider.