VH-FAY Piper PA-30 Twin Comanche (c/n 30-471)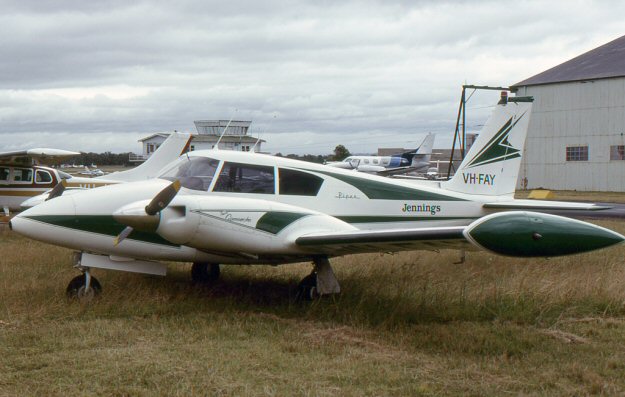 Despite having two US identities before arriving in Australia, N10F and N7451Y, VH-FAY was
registered in Australia in July 1964, the year it was built. When David Carter caught up with
–FAY at Bankstown on March 3, 1984, it carried the name Jennings on the fuselage. Prior to that,
it was with Outback Air Pty Ltd at Cairns when the shot below was taken by John Shobbrock in
1969. John inidcates that he was the investgator for the Cuistoms Narcotics Bureua at this time
when the aircraft was being investigated as having been used in the imporation of heroin into North
Queensland. In November 2000 the aircraft was reregistered VH-HPR, the personalized
marking of owner Howden Phillip Reiss and was still in his name in September 2016.
Incidentally, –HPR suffered an undercarriage collapse on landing at its home airport of Bankstown
on March 29, 2013.