VH-FAV Miles M.75 Aries (c/n 75-1002)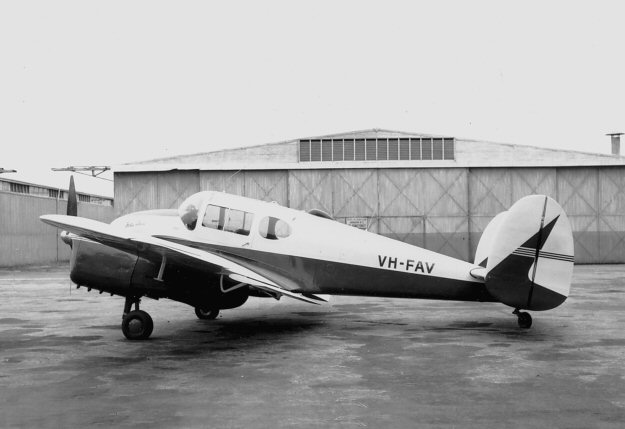 The M.75 Aries was a more powerful version (two 155 hp Blackburn Cirrus Major III engines)
of the Miles M.65 Gemini. In addition it had larger fins and rudders and a strengthened fuselage.
Only two M.75s were built. This one was ex G-AMDJ and was imported into Australia in 1955,
when I took the above photograph at Moorabbin. This image, incidentally, was supplied to Bill
Green and Gerald Pollinger for their 1955 edition of 'The Aircraft of the World'. Anyway, the
Gemini had been flown out from England by aircraft broker and dealer Arthur Schutt accompanied
by Anthony Vigano, a Melbourne restaurant owner who had purchased the Aries in the UK. After
an Australian CofA had been applied for at Moorabbin by Schutt Aircraft Sales and Service, it was
registered in March 1955 as VH-FAV to include the owner's initials. Soon after the Aries was sold
to well known grazier and aviation promoter G.B.S. Faulkiner of 'Haddon Rig', Warren NSW.
Retired at Bankstown in 1962 due to the type grounding order, -FAV ended its days mounted on
poles at the Penfolds Winery in the Blue Mountains, west of Sydney, as a garish advertisement
painted with the slogan 'Don't crash, take Penfolds'. Seen below are two historic D. Freeman
photographs (via the Geoff Goodall collection) showing the aircraft in the UK at (top) the Fifty Years
of Flight display at Hendon on 21 July 1951 where it is carrying the 'B' type registration G-35-1 and
(lower) as G-AMDJ at Redhill in June 1952. Finally, at the foot of the page is a John Hopton photo
showing -FAV at the back of a Bankstown hangar after it was retired due DCA restrictions to glued
wooden jointed machines such as Miles Messengers, Geminis and Aries.