VH-FAS de Havilland D.H.82A Tiger Moth (c/n DHA34)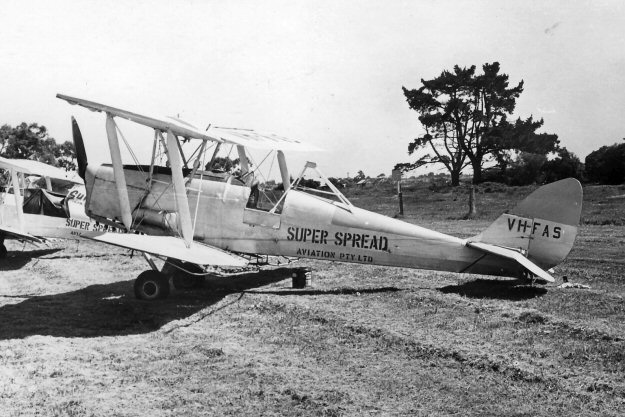 VH-FAS was the former A17-37. It was civilianized in July 1947 as VH-RJA for Ronald
J. Annetts of Melbourne, operating under the snappy name of Hire or Fly Yourself And Air
Services Pty Ltd (quite a mouth-full) at Essendon. In 1949 it went to Furness Aviation of
Parafield, SA, who re-registered it for their initials as VH-FAS. As such it was purchased
in 1959 by Superspread Pty Ltd of Moorabbin. (I wonder why it wasn't re-registered into
the VH-SS- series?). It is seen above at Moorabbin in 1961 in this shot from the Geoff
Goodall collection. After its crop spraying days were done it was acquired by the Royal
Aero Club of WA at Jandakot as kind of a "nostalgia" machine, and repainted into a very
attractive paint scheme as seen in Geoff's own shot (immediately below) taken at Jandakot
in March 1970. VH-FAS is still extant and still in West Australia. It is now re-painted
(naturally) as a "warbird" as seen in the nice shot at the foot of the page by Carsten Bauer
also at Jandakot but in May 2004. Although still operated by the RACWA it is used, I
believe, mainly for air show participation, rather than as an instructional machine.