VH-EZY Beech A36 Bonanza (c/n E-222)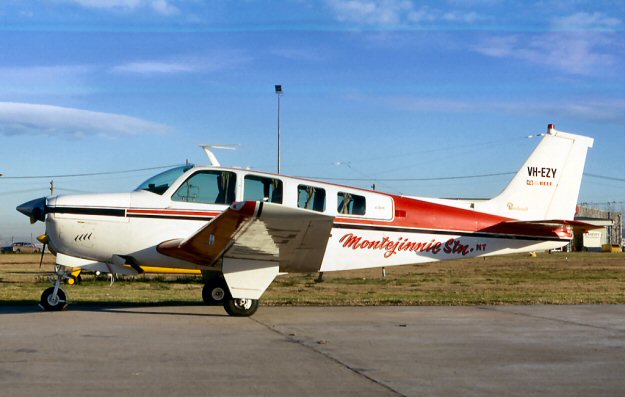 VH-EZY arrived in Australia with stick-on the registration letters N9016Q. See John Wheatley's
shot below at Bankstown with original panoramic view of it along with -EWZ..* It was registered
in July 1970 and delivered to Montejinnie Station, in the Northern Territory. David Carter took the
photograph above at Mascot in June 1971. –EZY was still in the outback when it came to grief at
Lurline Station, Queensland, on March 2, 1981. It took four years before the aircraft was repaired
and restored to the register in June 1985. In July 2016 it was still registered to a Sydney owner.

* My VH- register shows that the Beech delivery 'tail number' for VH-EZY was purported to be
N9388Q, but clearly that is incorrect, as the two machines (VH-EZW nad -EZY) were in
sequence and the real identity of -EZY was N9016Q.