VH-EZX Beech E55 Baron (c/n TE-820)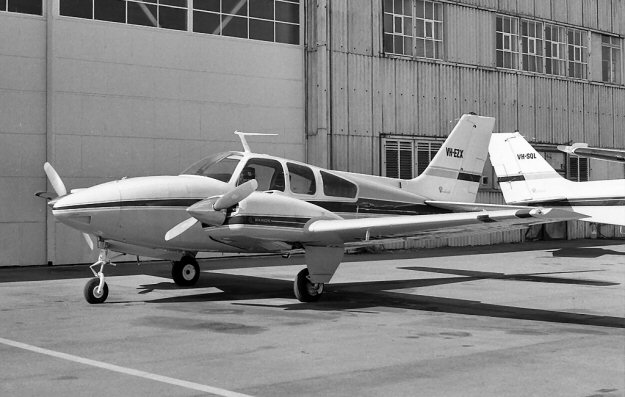 N9388Q arrived in Australia with its pasted-on paper ferry markings a little the worse for wear, as
seen in David Carter's 1970 photo (below) at Bankstown. A few weeks later, the Baron was
sporting its new Australian markings outside the Hawker de Havilland hangar when David caught
it again. That would have been around September, the month it was formally registered. In 1976
–EZW was flying out of Perth with Civil Flying Services. The registration was cancelled in January
1979 as sold abroad as VP-PBF, which could have been the Solomon Islands or New Hebrides. In
any event, it was back on the Australian register a month later. The next month, March, it was exported
again, this time to Papua New Guinea where it became P2-GKX with Talair . The big-engine E55
Baron was a popular choice in the hot and high conditions of PNG. The Baron returned to Australia
in February 1991, becoming VH-USP. It was wrecked when it ran out of fuel near Camden on a
flight from Cootamundra to Bankstown. The pilot had failed to lock the fuel caps and the fuel had
vented away . He suffered only minor injures when he came down amid trees on a wet night.