VH-EXY Aero Commander 680E (c/n 815-61)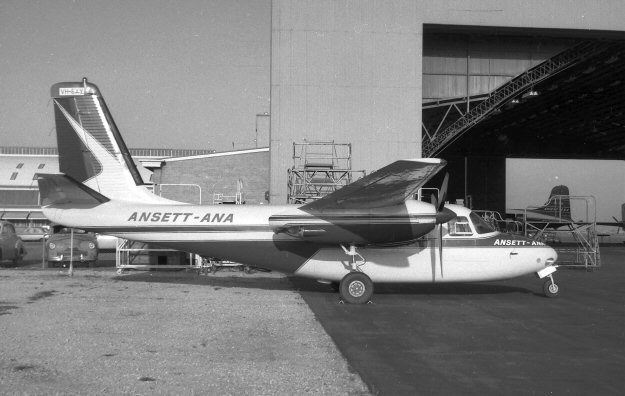 This Commander was built as N202M in 1959. It went to Maryland Drydock & Shipbuilding
Co in Baltimore, which is why I don't have a photo of it as such (I photographed almost every
Aero Commander which went through the western states distributorship in Santa Monica in
1959). After several other US owners it was acquired by Executive Air Services Pty Ltd, of
Essendon, Melbourne. It was leased to Ansett-ANA from April to June of 1964 and Geoff
Goodall caught it at Adelaide Airport in May of that year. Aero Commanders as airliners were
very rare, and, in fact, this one was not truly operated in that capacity despite its titling. It was,
in fact, used to support Donald Campbell's world land speed record attempt on the dry bed of
Lake Eyre. DCA had denied permission for DC-3s to land on the lake bed and set a weight
limit of 10,000 lbs for such an operation, a limit easily met by the Commander, topping out, as
it did at around 6,500 lbs. In the event VH-EXV only operated a few flights between Adelaide
and the Lake Eyre site. Interestingly, and as an aside, Donald Campbell racked his Bluebird
CN7 up to 403.10 mph, exceeding by far the maximum speed of the Aero Commander which
brought him his supplies! VH-EXY had several Australian owners after the Ansett-ANA
lease and was sold in 1976 to Henry M. Meyer of Singapore, although carrying the US regis-
tration N28374. Its fate after that is unknown.