VH-EXG Canadian Vickers PBV-1A Canso (c/n CV-369)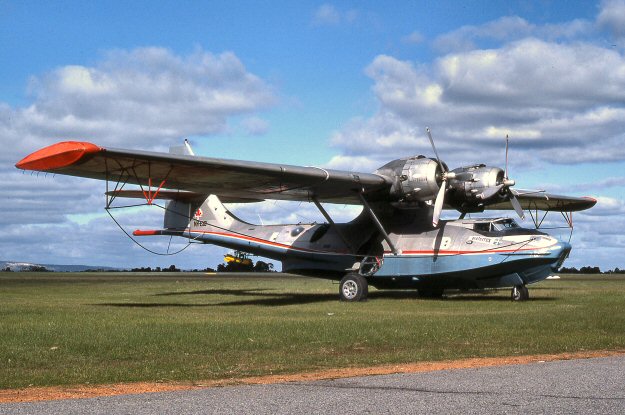 This Canso was delivered to the RCAF with serial number 11060 in April of 1944. It was
civilianized in 1966 as N609FF and flew as tanker # E40 with Firefly Inc of Portland, Or. It
then was operated for a couple of years by Terra Survey Ltd of Ottawa although appears not
to have carried a C-rego. The aircraft was delivered to Essendon in June 1972 from South
Africa where it did survey work, was registered VH-EXG to Executive Air Services of Essen-
don, and operated extended sorties at low altitude over remote areas, detecting mineral deposits
under the ground. The photo above was taken by Geoff Goodall at Perth in June 1985 while
it was in service with Geoterrex. Note yellow magnetometer "bird" which was flown from a long
cable, as well as the magnetometer cable "loop" between wings and tailplane. It was retired
at Essendon after its last flight on 10 December 1967 and later moved to RAAF Point Cook
for restoration by the RAAF Museum. Barry Maclean's shot below shows it looking decidedly
dejected (sans port engine) at Essendon, following its active retirement. The B&W image at the
foot of the page is from the CAHS archives.