VH-EWM DHC-6 Twin Otter 100 (c/n 71)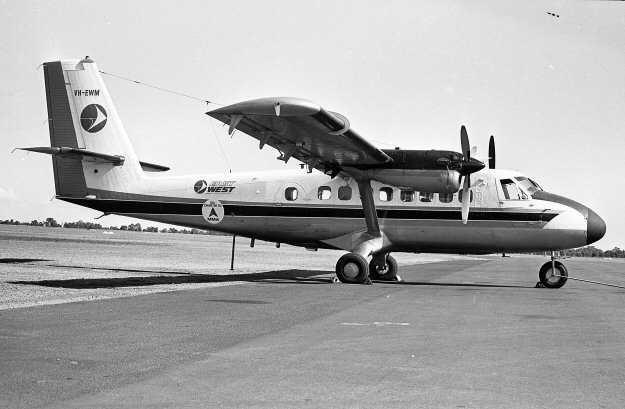 'East West General Aviation Division - On Charter to MMA' reads the titling and logo on this early
Twin Otter, delivered to East-West Airlines in December 1967. (When it arrived at Tamworth in
November 1967, it was registered N16430 to the investment company Air Capital International).
It became VH-EWM the next month. In its earlier career in Australia it was flown for the C.S.I.R.O
in Tasmania on a rain-making contract. It was leased to NSW Aerial Ambulance and also to TAA in
the late 1960s before returning to EWA. In 1972 it was leased to MMA and the very nice shot above
was taken by Merv Prime at Perth in March 1972 (reproduced here courtesy of the Geoff Goodall
collection). It was sold off by ATI, the Ansett Group, in December 1972 to Bannoc Aerospace. In
1973 it returned to the land of its birth for Arctic Air of Edmonton as CF-CIJ. It had a couple more
Canadian owneres in 80s and 90s (becoming, of course, C-FCIJ) and was finally sold to Air Service
Wildgruber GmbH, Michaelisdonn,Germany, in 1991 as D-IDHC.