VH-EWA (3) Douglas DC-3CS1C3G (c/n 9286)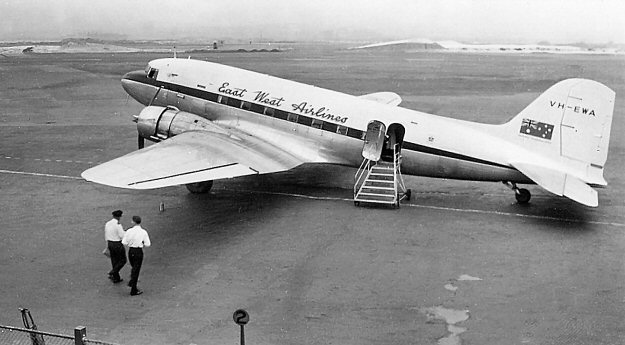 This DC-3 was purchased from Qantas (ex-VH-EAM) in 1953 to upgrade the airline from its
aging Hudsons. This marked the beginning of an expansion era for East West Airlines, although
for a while it was the only DC-3 the airline possessed. It achieved quite remarkable operational
statistics making daily trips from Sydney's Mascot Airport to country towns up and down the Great
Dividing Range. In the above shot the crew is seen walking out to the aircraft for one such trip in
1954. The lower shot was taken in 1955. Note the dropping of the hyphen in the name carried
above the cabin windows (although the registered corporate name was still East-West). Yet another
variation of a theme appears in the somewhat grainy photo at the bottom of the page taken by Jeff
Atkinson (reproduced here courtesy of Nigel Daw) showing -EWA at Mascot in 1958. The DC-3
was re-registered VH-EWF(2) in 1959 when the first Fokker F-27 arrived, since the cream of the
fleet obviously had to carry the coveted VH-EWA markings.