VH-EQV Britten-Norman BN-2A Islander (c/n 172)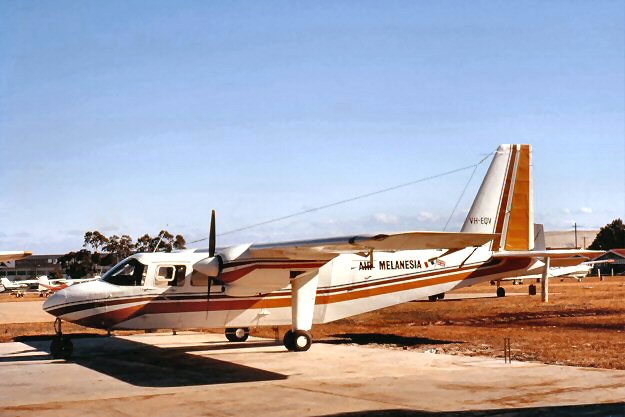 Five BN-2A Islanders were delivered to the South Pacific Region in mid 1970. All were built with
UK B Class registrations and then went onto the UK register before being shipped to Australia for
staging and onward delivery. Three of them went to Air Melanesia at Port Vila, New Hebrides (now
Vanuatu) and two to Mt.Cook Airlines in New Zealand. VH-EQV seen above at Bankstown in this
shot by Greg Banfield was formerly G-51-172 and G-AYCK. After testing in Sydney for less than
a month it was sent onward to the islands where it became VP-PAT. The other two delivered at the
same time were VH-EQW (c/n 173, ex G-AYCY to VP-PAS) and VH-EQZ (c/n 168 ex G-AYCD
to VP-PAU). Air Melanesia also took delivery of a Mk. 3 Trislander at about the same time, although
this machine, VP-PAO, ex G-BASA, did not stage through Australia bur appears to have been
delivered direct.