VH-ELU Cessna 402A (c/n 402A-0121)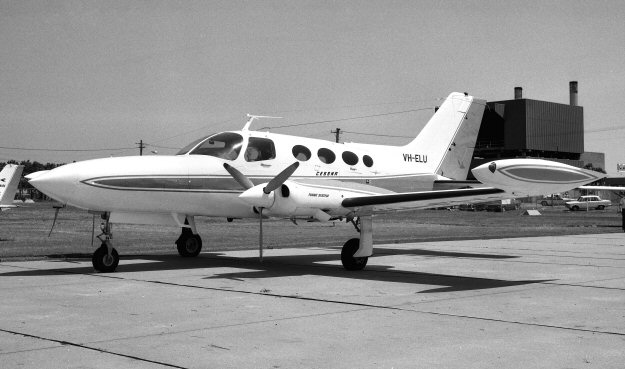 I'll say this, Greg Banfield was a lot better at photographing these big-wing-tip-tank Cessnas
than I was. I could never seem to get a good angle to get those tanks out of the way. This
one was at Mascot in November 1974, and was owned by Nationwide Air Services of Can-
berra at the time. Oddly, in John Wheatley's earlier shot below, those tanks seem to be missing.
Did Nationwide remove them at one point? Built as N7821Q, this 402A was first registered
in Australia on 2 April 1970. On 17 December 1975 it was sold to Astral Airways (Pty) Ltd
of Devonport, Tasmania, and sold again on 2 February 1977 to Trans-West Air Charter (WA)
Pty Ltd. In September 1979 it went to Talair in New Guinea and was re-registered P2-GKP.
David Carter's rare shot at the foot of the page shows the 402A at Bankstown in 1970 just
after its arrival at N7821Q.