VH-ELI Lockheed (Aermacchi) AL60-B2 Santa Maria (c/n 11-6156)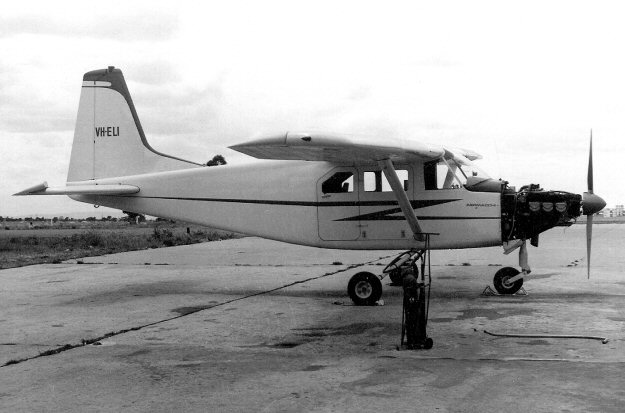 In the late 1950s Lockheed designed a utility aircraft to the specs of General Juan Azcarate of Mexico.
The result was the Lockheed 60, also known as the LASA-60. Production was to be undertaken by
a new subsidiary, Lockheed Azcarate SA in Mexico. In the event, only 18 were produced by this
facility (seems hardly worth setting it up) and plans were afoot to build the craft in both Argentine and
Australia. Neither of those came to anything, but Aeronautica Macchi tooled up and produced a num-
ber in Italy, of which VH-ELI, seen above, was one. The above shot was taken by Richard Maclean
at Essendon in 1962 just after the aircraft arrived in Australia. Anecdotal story: I lived in Southern
California in the 1960s and around 1964 (my youngest was three, I remember) we took a short sojourn
to Ensenada in Baja California (basically to see a Mexican Circus.....that's a bit like a Chinese Firedrill).
Anyway, a visit to Ensenada Airport at that time revealed a LASA-60 sitting in the middle of the field.
Commencing to trek over to photograph it (I think it was probably in Mexican Air Force livery) I was
immediately pounced on by a cadre of AK-47 toting Mexican soldiers (complete with bandido mous-
taches) and told that this was a "secret'; aircraft and I couldn't go after it! Needless to say I did a quick
180! Anyway, the single Australian example above has had a long history, winding up as a parachute
dropping machine. For more images of it in different liveries and its complete story visit Ron Cuskelly's
fascinating entry on "The Lockheed File" at:
http://www.adastron.com/lockheed/lasa-60/lasa-60.htm
Greg Banfield saw it at Camden, NSW on 28 March 1976 (below) in an attractive paint job wearing
Airmove Air Taxi titling. The inscription beneath reads 'Aircraft Engineering Associates Pty Ltd'.