VH-EFR Avro 652A Anson 1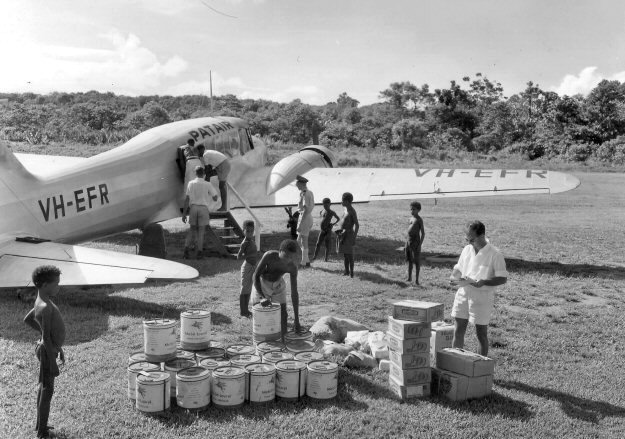 Just another day in Kokoda, New Guinea, (above) circa 1958. VH-EFR was originally owned
by E.F.Reid and the scratchy photograph below was taken at Rockhampton, Queensland around
1956 when the Anson was being ferried to New Guinea on a DCA ferry permit prior to formal
registration. It was painted allover yellow and still had the original helmet cowlings. Ex RAAF
W2093, it had been purchased at RAAF Tocumwal NSW in March 1953 by Reid, and DCA
had allocated VH-BOT but the civil conversion was not completed. Ernie Reid was a pilot with
several charter companies in New Guinea, and a partner in Goilala Air Services. However by the
time VH-EFR received its formal CofA in March 1958, (and Oxford type cowlings) it was regis-
tered to Papuan Air Transport Ltd of Port Moresby (Patair). Now repainted silver with red lettering,
-EFR only flew with the New Guinea outfit for a year and a half before being retired in October 1959
as their final Anson. It was replaced by 4 new Piaggio P166s from Italy. VH-EFR was donated to
the Boroko Returned Soldiers League in suburban Port Moresby as a memorial.
Both photos from the Geoff Goodall collection.