VH-EDF Auster J/5P Autocar (c/n 3191)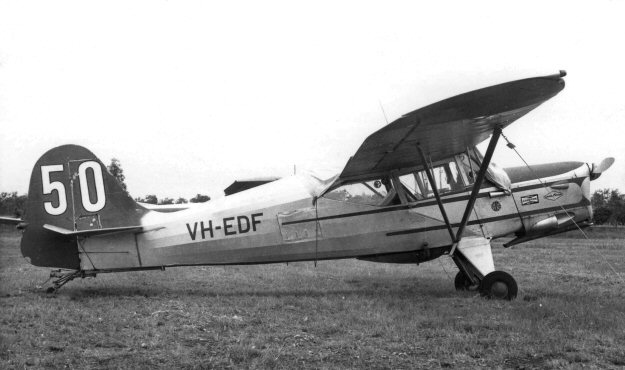 At around the time of the 1969 BP England-Australia Air Race, Richard Rudd (a contributor to
this collection), an Adelaide aerial surveyor and photographer, was in the U.K. to purchase an
aeroplane for a solo flight back to Australia as a private venture to commemorate the 50th Anni-
versary of the Ross-Smith Vimy Flight of 1919. He acquired the Autocar G-AOHF. This air-
craft had had a couple of stints abroad prior to that, having been registered D-EFOR and EI-AJH,
before being restored to the UK register as G-AOHF after both tenures. After an adventurous
trip wherein Richard at one point forced landed in the desert 300 miles from Damascus due to fuel
problems* he arrived in Adelaide on 25 January 1970. The number '50' on the tail was not, there-
fore, an official race number, but represented the 50 years since the original Vimy flight. I believe
that Richard was entrusted with a bag of commemorative mail to carry on the trip. VH-EDF has
been owned now for more than a decade by Auscan Aviation Associates at Parafield Airport,
Adelaide. However, as of early 2011 it is now under restoration (to be presented as it was when
it first arrived in Oz back in 1970) by Bruce Ramsay of Gayndah, Queensland. The photo above,
circa 1970 is from the Ian W. O'Neill collection, whilst the three shots immediately below are from
Richard and show (upper) the Autocar at Kidlington in 1966 as G-AOHF, (centre) refueling at
Singapore (note Royal Air Cambodge Caravelle taxying in backgournd) and (lower) the inscription
carried on the nose.

* Regarding this delay in Syria, Richard reports: "The local Sheik's men escorted me to his tent.
As they had Sten guns and I didn't, there really was no question of my not going!". In the event
he was allowed to leave and continued his trip undeterred. The last leg was made from Oodnadatta
to Parafield. Richard also reports that the painting of the '50' on the tail helped on several occassions
when airport authorities assumed it was an official race number!