VH-ECZ Republic RC-3 Seabee (c/n 972)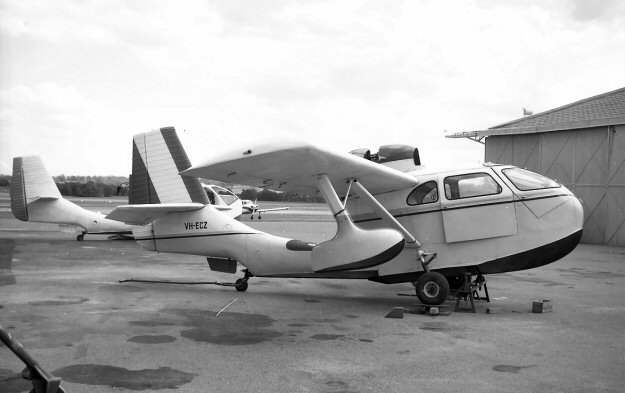 This was the former VH-BBJ, acquired by East Coast Airways in 1962 and registered into their
series in June of that year. In November 1962 it suffered a heavy landing on the Tweed rover, NSW
wherein the hull was holed and the aircraft sank. By `965 it had evidently been repaired and acquired
by Mr. K. E. Olson, who owned it at the time that Geoff Goodall took the above shot at Camden in
September of that year. In back was the other Seabee Olson owned, VH-MJO (his wife's initials).
On 13 January 1966, VH-ECZ was wrecked during a forced landing on the grounds of a mental
hospital in the Sydney suburb of Rydalmere, due to fuel starvation on a flight from Coolangatta to
Bankstown. Fortunately the owner/pilot escaped unhurt. There may be an irony in here somewhere,
but I'd better not go there! It was subsequently struck off the register and the remains of it were
noted in a hangar at Tyabb in the new millenium. Possibly for use as spares for the restoration
of VH-KNA?