VH-ECW de Havilland D.H.89A Dragon Rapide (c/n 6530)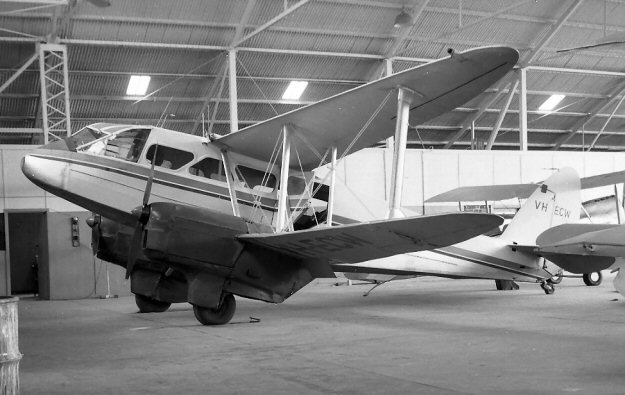 Rapides were not the most common de Havilland aircraft in Australia. In fact, they were downright
rare. This one had come in from Sweden in 1960 where it had been SE-CBU. Previous to that it
had been G-AJXB and X7370 when it was a Dominie with the RAF. Upon arriving in Australia it
became, simply, VH-CBU. It was flown by Peter Ahrens who migrated to Australia along with
5 of his family members. Ahrens then established East Coast Airways at Coolongatta, and the
Rapide was re-registered VH-ECW in 1962, and was used on charter work. Geoff Goodall's
shot above shows it at on arrival at Parafield in December of 1963, still wearing the blue, white and
gray color scheme from its Swedish days. It had come in for an extended overhaul for a new owner,
a process which was to take, in the event, over two years! Below it is seen after finally emerging
from that overhaul in March 1966, painted rather blandly in silver and white. It had been sold to
Pastoral Aviation of Toowoomba Qld, and finally departed Parafield on delivery to Toowoomba in
June 1966. After that it had a hard new life dropping dingo baits in outback areas of the Northern
Territory and the Kimberley region of WA. VH-ECW was destroyed by fire when wing fabric
caught alight during an engine start at Blackal, Queensland on 30 March 1968.