VH-EBA (2) Boeing 707-138 (c/n 17696)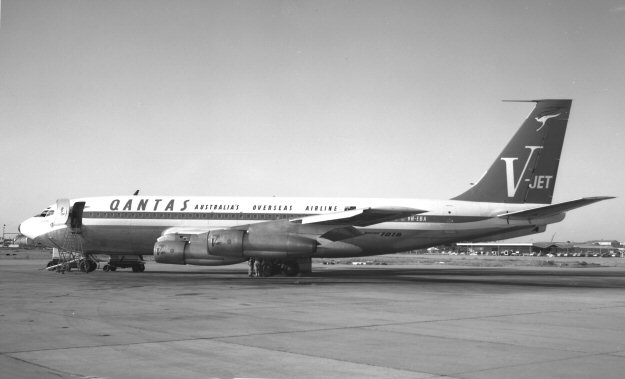 Thirteen Boeing 707 Model 138s were operated by Qantas. VH-EBA was the first to be registered
(on 7 June 1959) although VH-EBB was actually the first in revenue service, since -EBA was used
for flight crew training and systems checking in Seattle, where the aircraft was first flown as N31239.
It was originally delivered in 1950s style Qantas livery (with BOAC style bars across the fin and
rudder) as

'City of Melbourne'

but by the time Greg Banfield took the above shot at Mascot in
March 1964 it had long since had its V-Jet tail treatment. The image below, from the Ken Watson
collection, shows it wearing the 40-Year Anniversary emblem on the tail. VH-EBA was withdrawn
from Qantas service in 1967 and sold to Pacific West Airlines as CF-PWV. It then had many
owners including a stint in Saudi Arabia before being acquired by the Qantas Founders' Outback
Museum where it is now on display (as VH-XBA) at Longreach, Queensland.