VH-EAX (3) DHC-3 Beaver 1 (c/n 247)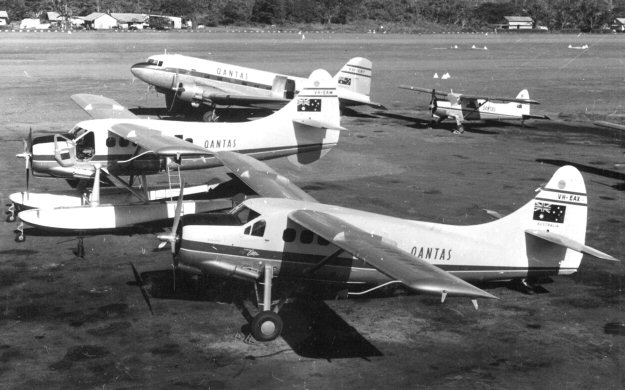 Interesting shot from the Ben Danneker collection of Otters VH-EAX and -EAW at the old Lae
Airport, New Guinea circa 1958. (Locale identified by Rowan Hughes), Both were delivered
new to the airline on 27 May 1958. -EAX was named

'Kokopo'

. The DC-3 in the background
is VH-EBY. The Beaver was probably VH-EAV. In 1960 both these Otters (along with the
other two, VH-EAY and VH-EAZ) were sold to TAA for its Sunbird operation. VH-EAX be-
came VH-SBR and was renamed

'Kundiawa

' by TAA. Withdrawn from use in 1966 it was
stored at Bankstown for a couple of years before returning to the land of its birth as C-FYLZ.
As such it is still (2012) current with West Caribou Air Service a sporting and mining charter
company operating out of Savant Lake, Ontario. (I imagine that most passengers enplaning on
the Otter these days are considerably younger than the aircraft itself). Notice this is -EAX the
third. The second was to have been a Drover which went straight to Fiji as VQ-FAS.